ROCKFEST 2022
HYVINKÄÄ AIRFIELD, FINLAND
June 2.-4.2022

MASSIVE KICK-OFF FOR THE FINNISH SUMMER FESTIVALSEASON

Offering three days of performances from international absolute legends, Finnish forefront veterans and contemporary toptier artists, the soldout Rockfest managed to make and keep even the underground-mongering hipster reporter happy along the 60000 other visitors.

All of this sort of fell from a tree.
WEDNESDAY

Had it been some ten years since I last participated in a domestic large scale commercial festival, when my attorney contacted me and told me I needed his help. Apparently my current situation had developed into a point, where I needed to empty my mind completely. He, as my attorney, adviced that rock 'n' roll would definitely be a good tool for doing so and if it was up to him, I would be at it while absorbing Rockfest's atmosphere and gather a report of my experience afterwards.
He'd be taking photos of the performances, oras he put it:

"We need to capture at least the souls of Mikkey Dee and Steve Harris, you know, it's for your best interest".
Then he went on about "the all seeing glass eye of endless time" and him being "the hunter of divine moments". I asked if the first was usually called a camera and thus the latter a photographer but as my attorney, he adviced me to think of all the joy and glory crystallisized in Rockfest instead of silly literations. I was clueless; I had barely noticed Rockfest existing though it's one of the biggest rock oriented festivals in the country.

"There is no time for negotiations. I need to deliver the necessary information due today. I'll take care of everything".

I told him his spirit is strong on this one and I'm onboard. After all, I agreed with my attorney about my current situation.

"Brilliant. Don't forget to forget. It'simportant.".
- Forget what? I asked.
"You're on the right track, my friend" he replied as he hung up.

THURSDAY

"Everything is set up. The situation is under control. Pick up at oh-twohundred. The usual place." was the message I received at noon.
It was raining like somebody had set off the alarm from Mother Nature's "In case of the world's been burst in flames, pull here" panel. I packed my gear and headed out for a parking lot nearby. The ride would be waiting there.
Truth was, I didn't remember what kind of car my attorney drives. I gave him a ring at the parking lot.
"Yeah I see you, I'm in the car on the left" he said.

With given directions and the vision provided bymy soaked, steamy glasses I walked to a car, opened the door and got halfway in (could you please move the backpack a bit?) to realize I was invading some unknown persons vehicle. At this point my attorney had gotten out of his car and was on his way to get me out of the situation. The stranger didn't mind me stopping by. We wished the best for each other, I got out and shut the door behind me. No legal assistance needed.

"It was the other left, huh?" I asked from my attorney.

- Yup. Now, let's get a move on. I sense time being against us.
About one Meshuggah album later and after some mystical spiraling around the festival area perimeter (maybe a some sort of entering ritual, I saw others doing the same choreography; I didn't ask) we arrived at Hyvinkää Airfield, the homebase of Rockfest. There was only the pilgrimage from the parking area to the main gate, getting over with the necessary formalities and we'd be in.
ENTER ROCKFEST
After clearing the security check the festival area started to open before us. First I noticed some of the extra amusement my attorney was talking about in the car. There was "Raivoomo" or like I'd freely translate it, "Ragery" – a space where one could smash things up with a baseball bat to let out some steam (later on I noticed they seemed to be trashing mostly synthesisers – why?), a Thunderdometype of cage for motocross shows and a tower for bungee jumps. (I learned later there was also a bingo with a prize of getting into a private sauna. I probably would've been playing the whole weekend if I knew.).
Then followed rows of rather sophisticated food stalls and trucks, bars - one of them with non-alcoholic beverages only - and a grand merch stall. Piercings, licorice too... you name it. Also large, well placed sanitary areas with drinking water available at all times.
Three stages; two major ones outside and a smaller one in a semi-open tent.
All easily accessible and pinned down by an installation of a massive fist, similar to the one on the logo, showing horns pretty much in the center of the area. What a handy meetingpoint, I chuckeled to myself.
"We have to part ways now, I'm headed to the pit. Time to begin the hunt. I'll contact you later. In the meanwhile, you know what to do." said my attorney as he vanished in the rain.

He's a shaman, I was thinking.

The feeling of anticipation was in the moist air. After all, folks had been waiting for this particular Rockfest to happen for three years. A certain pandemic had taken it's toll and the festival had been delayed twice. (Also the event was supposed to be held in a different location, but in the end remained at Hyvinkää.).
As I headed towards the main stage to join the crowd, the intro tape of LOST SOCIETY travelled through the air. I got all excited about the glitchy, electronic soundscapes.
"This is perfect, what a build up" I thought to myself, "I can't wait the riff to kick in".
And so it did. I instantly forgot about the rest of the world existing and was immersed into the Rockfest realm. Singer/guitarist Samy Elbanna greeted the audience with sincere appreciation and endless enthuasm – he was all over the place reminding me of the legendary Michael Monroe.
Nevermind the intensity of the show, Mirko Lehtinen on the bass was the one who caught my eye. Playing techy modern metal with fingers instead of a pick – as itshould be done, if you'd ask me – he's a specimen seen too rarely and surely was killing it. All in all the bands performance was energetic and solid, giving the perfect demonstration of what's Rockfest all about.
Epic, top quality guitar driven music with big choruses brought by bands who love being on the stage doing their thing.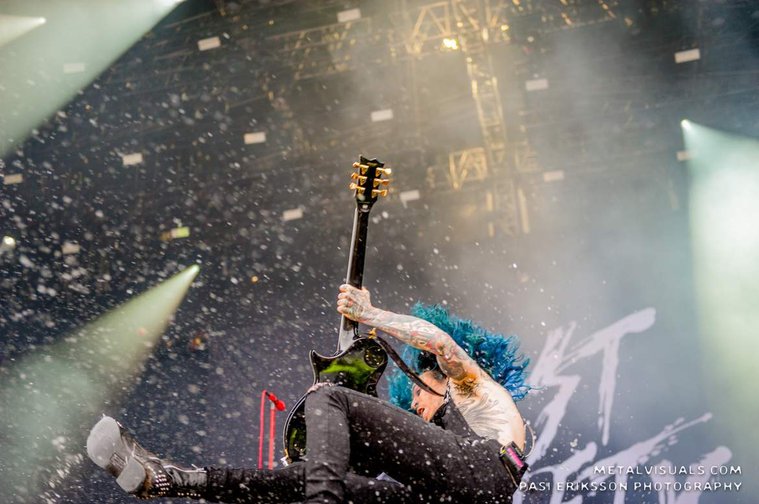 After the show I sought for cover to make notes and ended up sitting in a portapotty for a while writing things down. The rain beat the roof, lighting was dim and the container close to empty - it was cozy. This repeated a few times between bands before my attorney adviced me of media area's existence. We would meet there after megetting a peek on power metal group BATTLEDRAGON at the Black Stage and STATIC DRESS on Red Stage by Soundi.
The bands were playing simultaneously and the latter had the weaker hand on the audience quantity department. I wonder if it was because Battledragon was playing inside the tent and it was still raining. Anyways, for the time I was present, both bands delivered with grace. (there was a mention in the notes about StaticDress' guitarist I later discovered to be called Contrast: "The faceless embryo ninja guitarist of Static Dress is a great inspiration and will be my spirit animal for the festival. Strong Sith vibe on this one. Also the model of his guitar is awesome, as is his playing style").
Media area and the tent within was easy to find. Though I would miss the portapotty notes era, it served well as a place for regrouping. My attorney was fixing his camera equipment's waterproofing. I asked if he got good shots. "The hunt is still on", he replied. He seemed focused, I didn't want to bother him more. We sat down for a while and after I finished my cup of tea (geez it felt refreshing after being soaked for a good while) it was time to go.
Next up was FEVER 333. This group's tunes felt very nostalgic though I've never heard of thembe fore. It was like being on a gig of an angry teenage sibling of The Prodigy (my first favorite band ever, by the way) and noisier Rage Against the Machine as the electronica surfaces melted into groovy hardcorepunk. I would definitely peer into their music later at home.
Their performance was gold and the singer Jason Aalon Butler probably felt it too as he couldn't literally stay in his pants - he performed wildly in his undies for most of the set and even climbed up and conquered the follow spot tower opposite to the stage.
According to Wikipedia (research, baby, yeah!) instead of being your regular band the group see themselves more like a movement providing shelter for minorities in the society, with the mission of bringing the people together. This noble (my attorney adviced not to take a stand on this) message was strongly brought to audience as well. I appreciated it.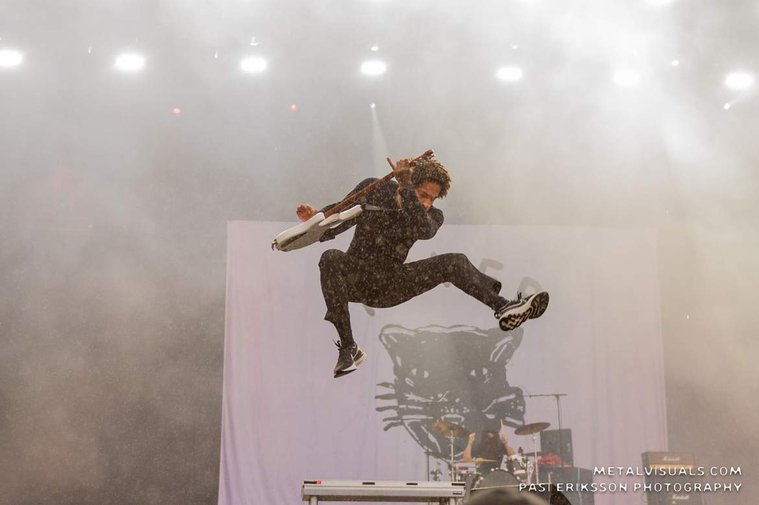 After some wandering in the area I went to see DIABLO.
I've seen them performing before and this time wasn't exception on them being a well oiled machine forging their hell bent metal. Rainer Nygård took on his role as the frontman in a sympathetic and friendly manner, his speeches between songs made me smile. The band has released their seventh studio album this spring and it rose to #1 position in the Finnish album chart. I hadn't heard their new tracks before, but as they went by I ncticed them being as tight as the oldf avourites – Diablo does know their game and keeps perfecting it. Very nice replacement for Trouble, who unfortunately had to cancel their performance.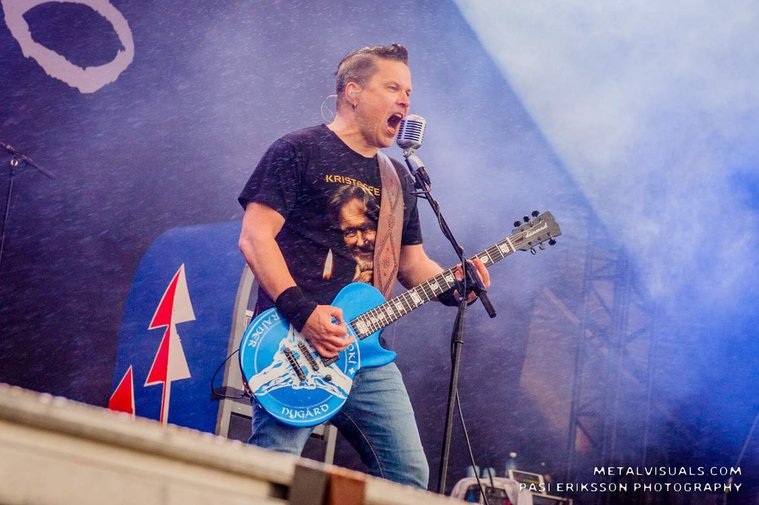 Proceed to BRING ME THE HORIZON. Much wow on the immense led screens decorating the stage. No matter how big the screens, the band really caught their audience. Interaction was frequent and people went nuts. The performance was all about breakneck heaviness and deliverance of a harsh emotional payload (oh boy, they did deliver) and made it clear from the very start. I on the other hand got carried away by their monumental wall of sound as their visual candy weirdness rolling in the background was in perfect synch with lights and music. (and of which artistic level was way beyond reach for every band's VJ's before and after during the entire festival, sorry).
It is ridiculous, but unlike my attorney I didn't see more than a glimpse of BLACK LABEL SOCIETY. Frontman Zakk Wylde did his magic with the signature guitar on an extra platform wearing a kilt, shredding like the Zakk Wylde he is. (I got to say there was a lot less pinch harmonics than I predicted). Though in my mind the bassist John DeServio was the real wizard handling his instrument like they've been born together (another bassist playing with fingers, yes!), every player seemed to be at home on the stage. Doesn't surprise me – I might even go as far as calling them the heavy rock gods of Thursday's program, but I think it's better to let the pictures (timesheets, says my attorney) do the talking this time, since I was mostly listening BLS play from from the distance.
First night's headliner slot was reserved rightfully for NIGHTWISH. A big production; mysterious, looming and nature themed visuals on the screens, atmospheric lighting, fireworks and pyrotechnics warming the audience's bones in the darkening evening. So did the singer Floor Jensen, as one could almost touch the joy of performing about her. Rest of the band were really putting themselves to it too and the group gave the audience the anthems they yearned for. To me it seemed most of Thursday's crowd had arrived for this treat and in return the band made sure the Rockfest visitors had a night to remember.
"The piper (Troy Donockley) was my spirit animal number two, summoning some enigmatic undercurrents on his stoic throne. He must be a shaman, but a different kind than my attorney. If the embryo ninja from before was the Sith, this one hereis the Jedi. Yin and Yang to completes my Thursday perfectly" was in the memo.
Text Mikko Toukola.

Photos Pasi Eriksson.

Black Label Society - Rockfest 2022.
Lost Society - Rockfest 2022.
Bring Me The Horizon - Rockfest 2022.
Fever 333 - Rockfest 2022.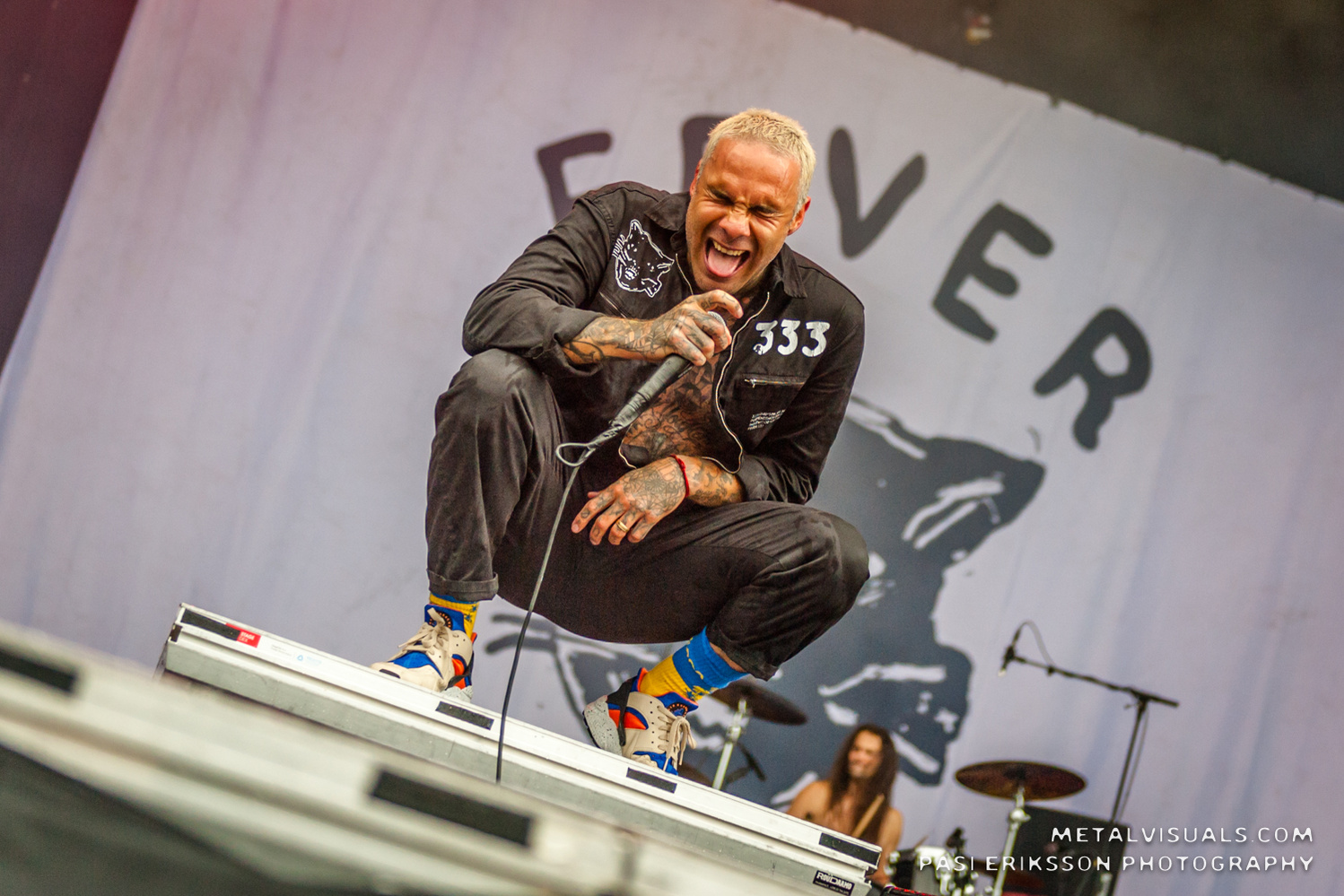 Nightwish - Rockfest 2022.
Bring Me The Horizon - Rockfest 2022.
Nightwish - Rockfest 2022.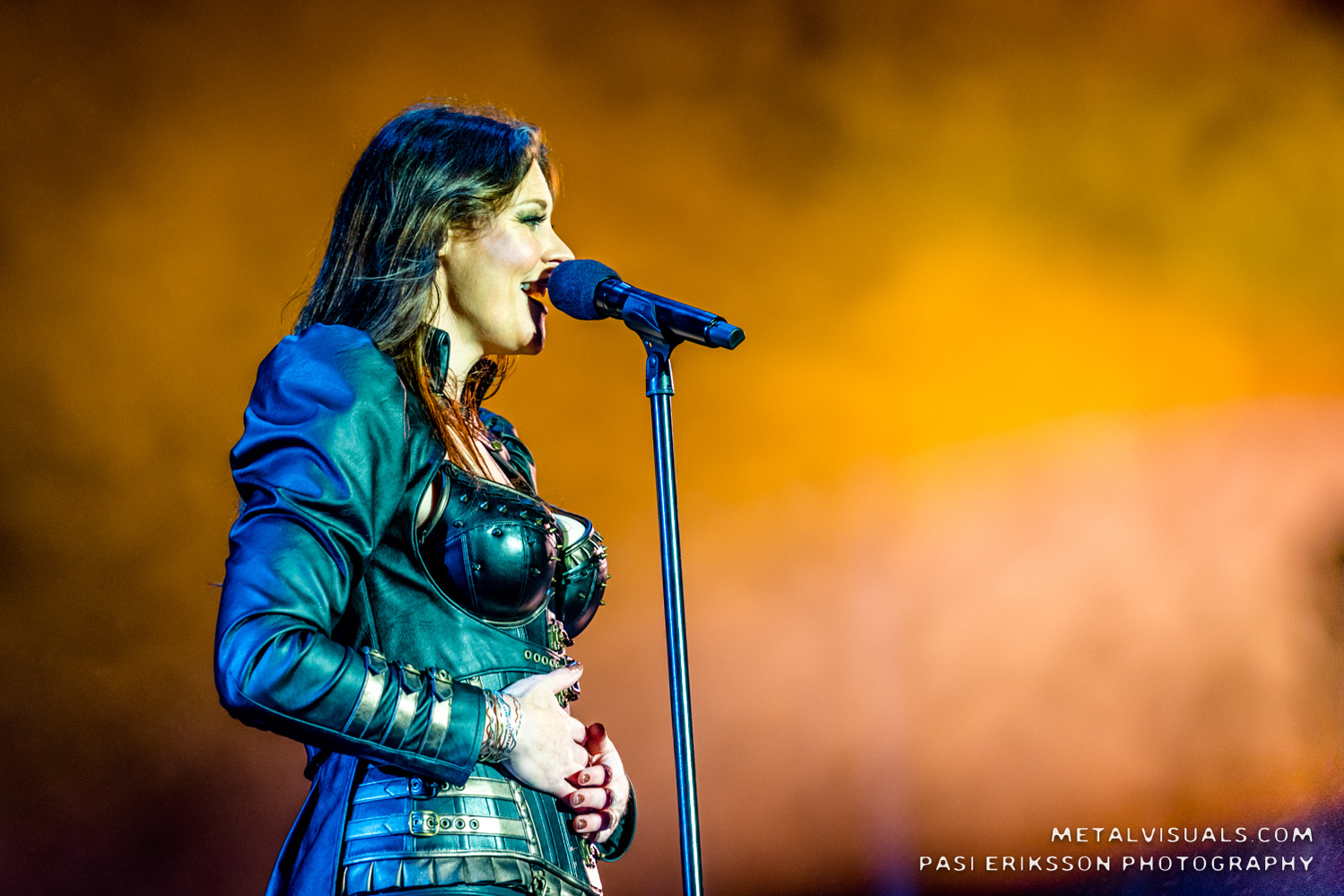 Black Label Society - Rockfest 2022.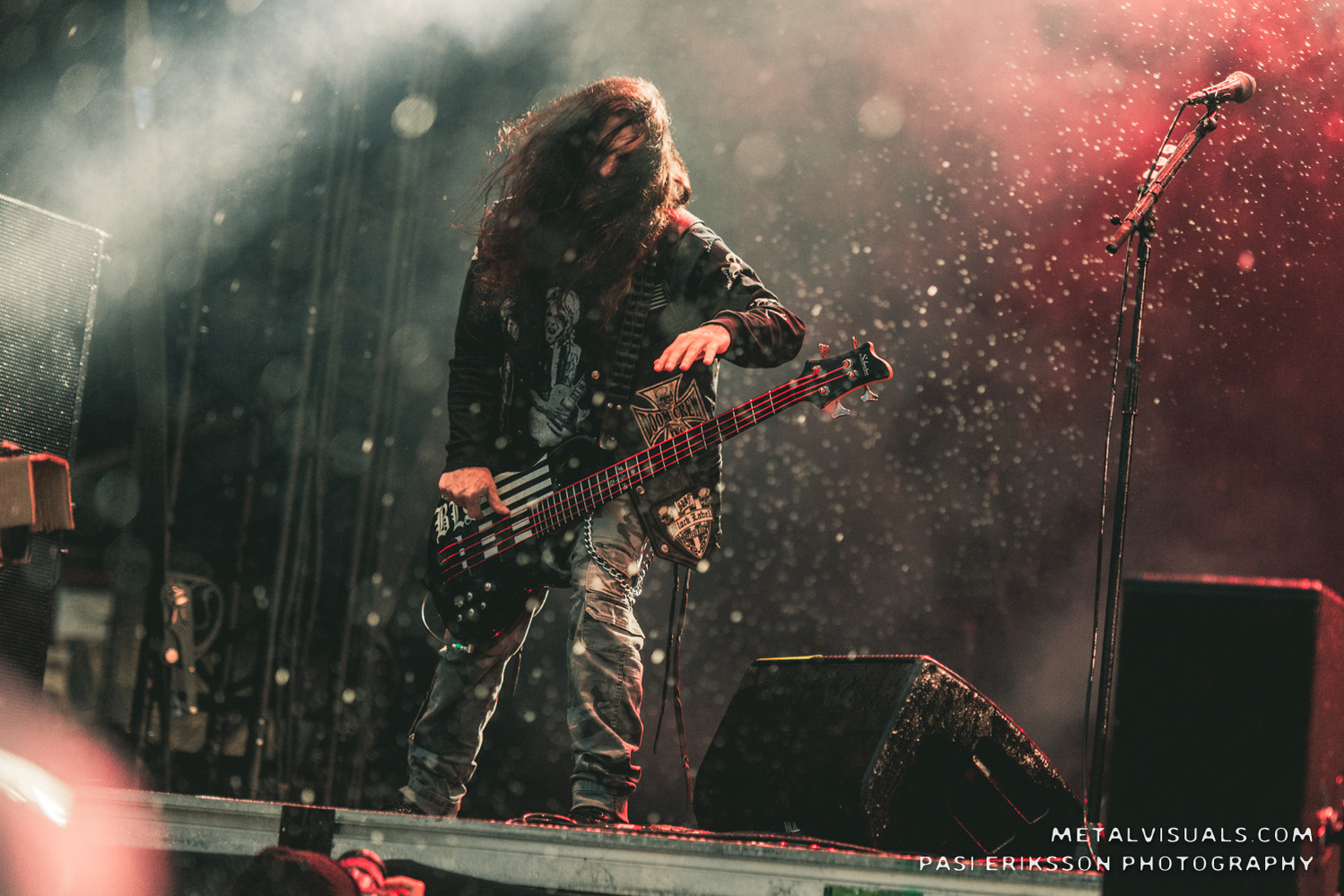 Nightwish - Rockfest 2022.